Felice Beato and the U.S. Expedition to Korea of 1871.
The text on this page is taken from Korea: Caught in Time, by Terry Bennett,
published by Garnet Publishing Ltd., 1997.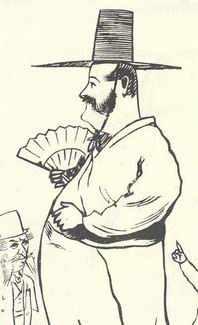 Beato 'as he ought to have appeared on his return from Korea',
caricatured by his friend, Charles Wirgman, in the Japan Punch for September 1871.
Terry Bennett
FELICE BEATO AND THE UNITED STATES EXPEDITION TO KOREA OF 1871
In the summer of 1866 an American merchantman, the General Sherman, sailed into the waters of the present-day North Korean capital P'yongyang. Requests for trade were denied, violence flared, and all the Americans were killed and their ship burned. Five years passed before the Americans were ready to mount a 'diplomatic' mission to enquire after their citizens and open up Korea to Western trade. The five American ships were commanded by the Civil War veteran Admiral Rodgers, who had previous Far Eastern experience. The US Minister to China, Frederick Low, was on board with a crew totalling some 1,000 sailors and marines, many of whom were Civil War veterans like Rodgers, and were quite ready to take non-diplomatic measures, should the need arise.
In the interests of Korean photographic history, it is most fortunate that the Americans decided to engage Felice Beato as official photographer to the expedition. Beato, who was then living in Yokohama, was already one of the most famous photographers in the world and, together with his assistant, a Mr. H. Woollett, he took some stunning pictures of the fighting that erupted after the failure of the American diplomatic efforts.
Unless and until subsequent research proves otherwise, the honour of being the first photographer of Korea must be given to Felice Beato. A number of writers, including myself, have written about the life of this restless but brilliant photographer. A short sketch follows, but readers who are interested in learning more should consult the biography.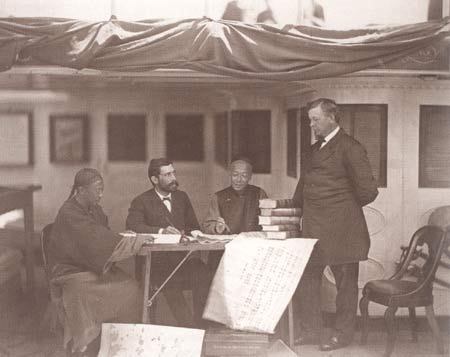 Secretary Drew, Minister Low and Chinese interpreters on board the flagshipUSS Colorado, May 1871.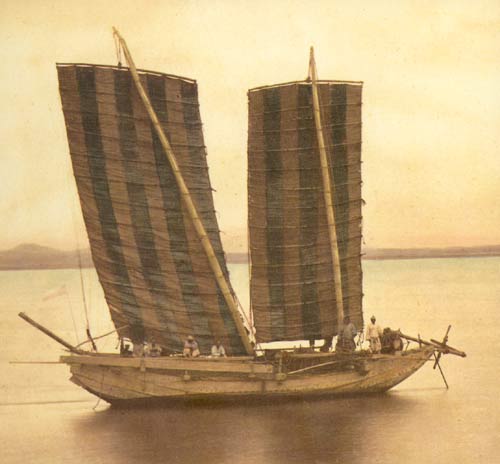 A Korean fishing junk with sails, May 1871.
This photograph was taken before the Americans reached, and anchored at, the mouth of the Han river. As such, it is probably the first time that Koreans, albeit from a distance, were captured on camera.
There is a great deal of uncertainty over the nationality, place of birth and dates of birth and death of Felice Beato. He has described himself as Venetian and as a British citizen, and his name is distinctly Italian. Although exhaustive research has failed to uncover his actual place of birth, it is likely that he was born in Venice, Constantinople or perhaps the Greek island of Corfu. Corfu has changed hands many times throughout its history and was, for a time, Venetian. It became British territory in 1815 before reverting to Greek control in 1864. A Felice Beato is recorded as having been born in Corfu around 1834, and this would explain Beato's British citizenship. In 1858 he was described in an Indian publication as being from the Ionian Islands, and although it is not in itself conclusive, Beato was appointed Greek consul-general for Japan in 1873. It may well be, of course, that Beato spent his childhood in Venice before moving to either Constantinople or Corfu.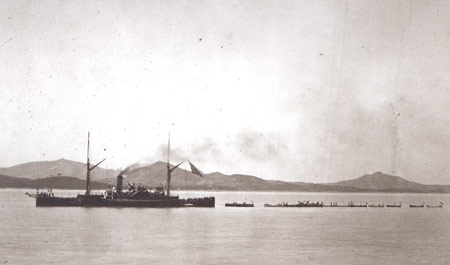 American marines being towed ashore for action, June 1871.
Beato's fame came from photographing the Crimean War in 1855, the Indian Mutiny of 1858 and the 1860 Anglo-French military expedition to China. In 1863 he moved to Japan, where he took some stunningly beautiful landscapes and portraits of the country and people, and it is perhaps for his work in Japan that he is most famous. He stayed there for 21 years, until 1884, subsequently basing himself in India and in Burma. He is thought to have died in Burma around 1907.
Beato was the first war photographer; he had travelled extensively and his work was held in very high regard. He would, therefore, have been a strong and natural candidate for the choice of official photographer for the American expedition to Korea in 1871, but his motives for going with the Americans are not known. It seems that he used photography as a source of 'steady income' but that his main interest was in accumulating enough capital to invest in various commercial and property-related schemes in the hope of making his fortune. It is known that he lost heavily, and the Korean trip may have been a means of re-establishing himself financially. It is also likely that he saw a real commercial advantage in bringing back the first views of Korea, and certainly he lost no time in marketing them on his return.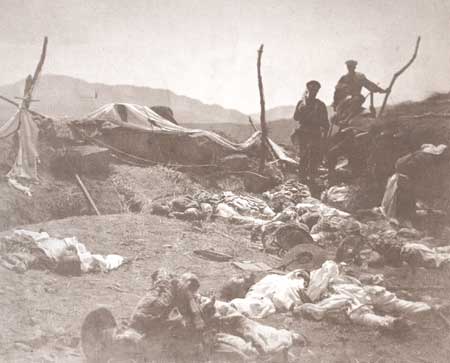 Interior of the main Fort du Coude, showing some of the 350 Korean dead after the decisive battle, 11 June 1871.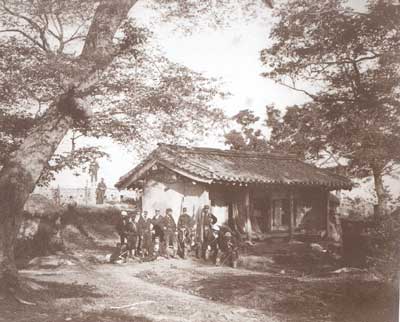 Marine and naval officers outside a Korean temple,
May-June 1871.
Embarking at Nagasaki with his assistant H. Woollett, Beato left with Admiral Rodgers' squadron of five ships for the island of Kanghwa - in the mouth of the Han River leading to Seoul - on 16 May 1871. After the failure of the diplomatic efforts, Beato was able to photograph the conflicts of 10 and 11 June and the carnage inside the captured forts. There is no doubt that the Americans felt themselves victorious; they had lost three men, the Koreans 350. The Americans' superior firepower and military experience and their determined and disciplined force had been overpowering, but contemporary reports speak of the ferocious fighting and the willingness of many of the Koreans to fight to the death.
When the American ships left Korea on 3 July little, in truth, had been accomplished, and the Koreans were able to regard it as a great victory because the Americans had sailed away without gaining any particular advantage, just as the French had done in 1866.
Beato was back in Shanghai by 28 June, having probably taken passage on the German frigate Hertha which had come to offer any assistance following false rumours that had been circulating in Shanghai of an American defeat. On 30 June, with the American fleet still in Korea, an advertisement appeared in the Shanghai News Letter announcing the sale of photographs from the Korean expedition! (It is remarkable how quickly Beato managed to produce and market his Korean portfolio. We tend to think of the nineteenth century as having a rather more sedate and measured business environment than the frenetic pace of the late twentieth century. But is this really the case?) The New York Times of 22 July 1871 described and listed 47 views in bound volumes. The Far East magazine of 1 August 1871 described Korean photographs taken by 'Mr. Beato and Mr. Woolett' (there seems to be no consistency in the spelling of Beato's assistant's name).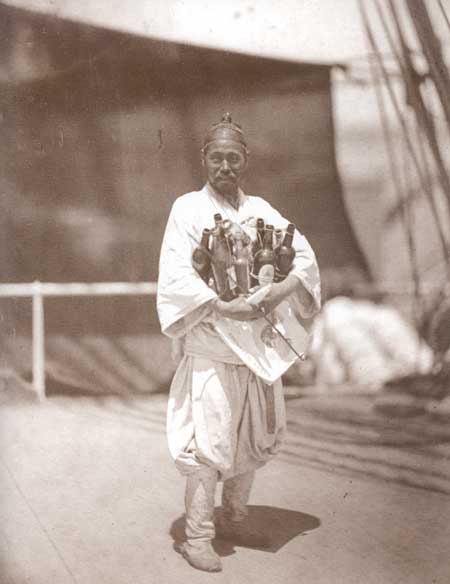 Korean villager on board one of the American ships, holding empty beer bottles and a copy of the American periodical Every Saturday, May-June 1871.
On 5 July, Beato and Woollett left Shanghai and returned to Yokohama. Beato would never return to Korea.
Copyright © 1997 Terry Bennett.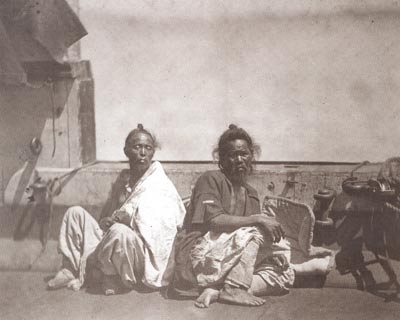 Korean prisoners on board an American ship, June 1871.
BIBLIOGRAPHY
Bennett, Terry: Early Japanese Images, Tokyo (Charles E. Tuttle Publishing Co.), 1997.
Clark, John, John Fraser & Colin Osman: A Chronology of Felix (Felice) Beato, privately printed by the authors, 1989.
Schley, Winfield Scott: Forty-five Years under the Flag, New York (Appleton & Co.), 1904.
White, Stephen: 'Felix Beato and the First Korean War, 1871',The Photographic Collector, vol. 3, no. 1, 1982.
>> 목차고리 : 사진